In addition to the label, Cosby still faces a maximum prison term of 10 years after an agreement between prosecutors and his defence team, but there is no mandatory minimum for the convictions.
The Montgomery County District Attorney, Kevin Steele, called for five to 10 years in jail for aggravated indecent assault.
Cosby's defence is pushing instead for house arrest.
In June 2017, Ms Constand described how Cosby, whom she viewed as a "mentor", gave her pills that left her "frozen" and unable to stop his assault.
In Ms Constand's impact statement, provided to reporters by the prosecution team on Tuesday, she said: "To truly understand the impact that the sexual assault has had on my life, you have to understand the person that I was before it happened."
Ms Constand wrote that she stopped eating, sleeping and socialising in the wake of the assault. She said she had been a "young woman brimming with confidence" before Cosby took that from her.

"Bill Cosby took my beautiful, healthy young spirit and crushed it. He robbed me of my health and vitality, my open nature, and my trust in myself and others."
Lili Bernard and former model Janice Dickinson – both Cosby accusers present at the hearing – tweeted on Tuesday: "May justice be served! #MeToo".
Cosby's wife, Camille, has not been present at the sentencing.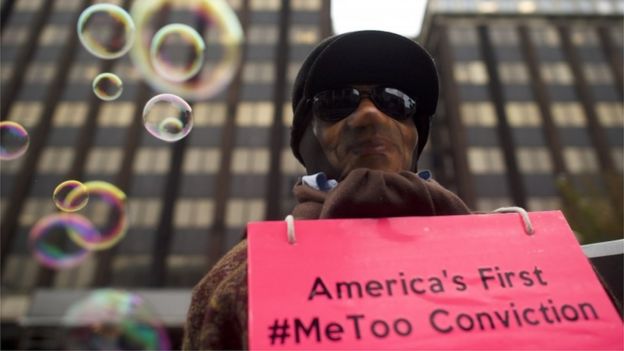 The comedian was arrested in 2015 and a deadlocked jury resulted in a mistrialin June 2017.
This year's retrial occurred amid the #MeToo movement that has seen people worldwide come forward to share stories of sexual harassment and assault.